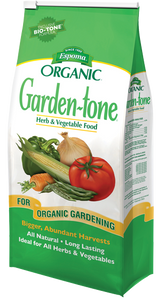 Natural & Organic fertilizer for an abundant harvest
Grow delicious cool and warm season vegetables like lettuce, kale, tomatoes, peppers & squash
Use for herbs like basil, chives, sage, rosemary, parsley & oregano
Long lasting, slow-release feeding with our exclusive Bio-tone Microbes
Grow an abundant harvest of nutritious & flavorful vegetables
100% natural & organic ingredients with no fillers or sludges
For Use On:
On all herbs and vegetables such as:

Hardy (cool season) crops:

Broccoli
Brussels sprouts
Cabbage
Collards
English peas
Kale
Kohlrabi
Leeks
Mustard greens
Parsley
Radish
Spinach
Turnip

Semi-hardy crops for early spring or fall:

Beets
Carrot
Cauliflower
Celery
Chinese cabbage
Endive
Irish potatoes
Lettuce
Radicchio
Rutabaga
Salsify
Swiss chard

Summer crops (Plant after danger of frost):

Beans
Corn
Cucumber
Eggplant
Melons
Okra
Peppers
Pumpkins
Summer squash
Sweet potatoes
Tomatoes
 When To Use:
Mix into the garden soil prior to planting.
Seedlings / Transplants: 7 – 10 days after planting.
Established plants: Monthly, May through Aug.
Herbs will only require feeding at time of planting or after a large harvest.