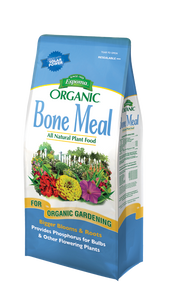 Single Ingredients
Comprised of 100% natural and organic ingredients, these products are pure plant food with no fillers or sludges. They enrich your garden with the best the Earth has to offer.
Approved for organic gardening.
Pure, premium products – no fillers or sludges.
Hard to find products for the avid and environmentally conscious gardener.
Large and small bag sizes – the right size to fit the job.
All natural fertilizer
All natural source of organic Nitrogen and Phosphorus.
Domestic Bone Meal is 100% pure, with no additives or fillers.
For bulbs and all perennials at planting time.
For Use On:
Bulbs, gardens, trees, shrubs, flowers and roses

Fall Planted Bulbs:

Allium
Buttercup
Crocus
Daffodils
Dutch Iris
Fritillaria
Grape Hyacinth
Hyacinth
Tulips
Scilla
Snowdrops
Spanish Bluebells
Spider Lily
Starflower

 

Spring Planted Bulbs

Anemone
Begonias
Caladium
Calla Lilies
Canna Lilies
Crocosmia
Dahlias
Elephant Ears
Freesia
Gladiolus
Lilies
Nerine Lily
Rain Lily
Ranunculus

 
When To Use:
Apply at time of planting
For existing plants use spring & fall