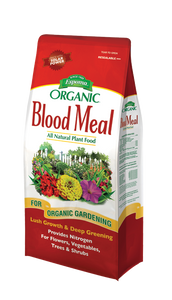 Single Ingredients
Comprised of 100% natural and organic ingredients, these products are pure plant food with no fillers or sludges. They enrich your garden with the best the Earth has to offer.
Approved for organic gardening.
Pure, premium products – no fillers or sludges.
Hard to find products for the avid and environmentally conscious gardener.
Large and small bag sizes – the right size to fit the job.
All natural fertilizer
Pure source of organic Nitrogen.
Naturally produces more vigorous plants with richer, greener leaves.
A time proven remedy for sickly plants.
For Use On:
For flowers (annuals & perennials), vegetables, trees & shrubs
When To Use:
Most often used in the spring & fall.  Can be used throughout the growing season if added nitrogen fertilizer is desired.