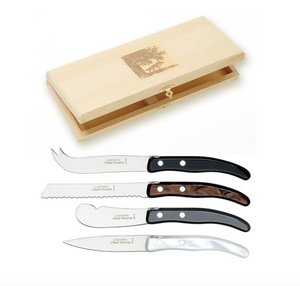 Designed by craftsmen in France, in the Claude Dozorme cutlery workshop, this beautiful box is composed of 4 pieces, including :
- The universal slicer is useful for nice slices of cake or to cut slices of bread.
- The cheese knife has been designed for your soft cheeses. Its spikes at the end of the blade make it easy to serve your cheese slices!
- The spreader knife is perfect for cutting and spreading your butter. It can also be used for jam, spreads or fromage frais.
- The paring knife has the advantage of easily removing the stalks of fruit thanks to its small size, it can even remove the core of apples.
Dishwasher Safe.