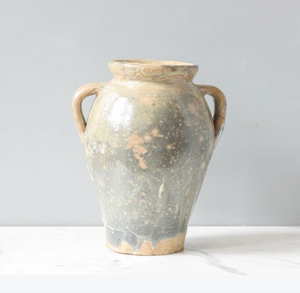 This antique vessel was sourced throughout Europe and features unique markings that tell a storied past. The trending blue, green and golden hues add a charming touch and calming energy into your interior. Add some florals and greenery for use as a chic planter or leave empty for a statement shelf styler. Best en masse for a dramatic statement.
Condition: Good, wear consistent with age and use.
This is a vintage or antique item and is for decorative use only.
Each pot will vary from images shown in style, shape, size and color.
Blues, greens and yellow hues with varied degrees of distressing.
Original state with a pleasant patina of age: signs of age and use will be present, authenticating the found nature of the product.
Sold as a "let us choose for you" concept.
We recommended to purchase at least 3 to get the look due to variance in the product.
Sourced in Europe, early - mid-century.